Employee Appreciation Day!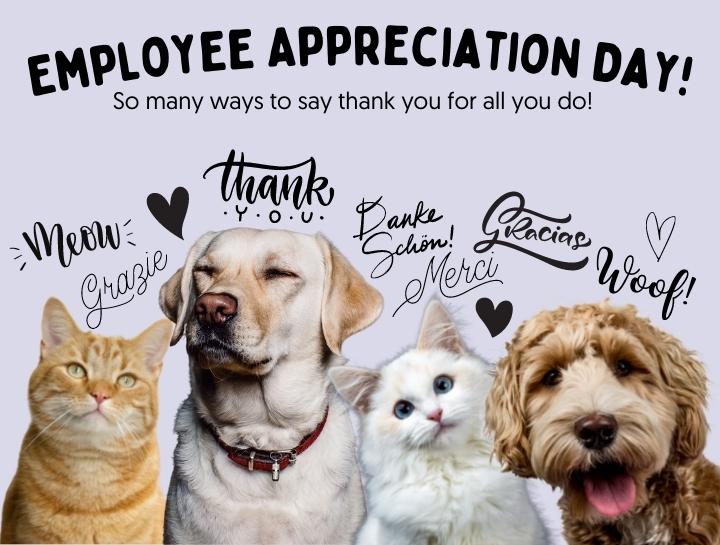 March 4, 2022
Giving thanks to our team.
The heart and soul of our practice are our patients and the love and joy they bring to us every day. Goosepond Animal Hospital would not be the same without the wonderful people that make up the amazing team that cares for those patients! Every staff member plays an integral role here at Goosepond Animal Hospital. Each individual and their contributions within our organization allows us to provide the high level of patient care and client service that we so proudly offer.
While we feel it is important to show gratitude to our staff every day, Employee Appreciation Day is the perfect opportunity to recognize our amazing team. We are grateful to have extraordinary people who, throughout the challenges and obstacles of the past two years, have continued to lift each other up and spread love throughout the practice.
Our Veterinarian Team is dedicated to excellent patient care filled with love, compassion, knowledge, and skill. Doctors Rothenberg, Alwang, Sonnema, Hayeck & Aimetti go above and beyond for each of our patients.
Our Licensed Technician Team is a phenomenal asset to Goosepond Animal Hospital, providing support to our doctor team through their skill set, education, and kindness. Sarah, Desiree, Linda, Kim, and Cathy add to the quality of care we give our patients.
Our Veterinary Assistant Team includes invaluable members of our staff who offer additional support to our doctors and technicians. Marie, Helen, Katie, Victoria, Dai, Alyssa, Angel & Max skillfully tame our wild patients, comfort our scared patients, and give extra love to our sick patients. They keep our practice clean, sanitary, and safe for all pets and people - a service we've needed more than ever these past two years!
Our Client Service Team, Zoe, Sarah, Shelly, Brittany, Jen, and Romina are the outstanding people who assist our clients both over the phone and in person. They coordinate schedules, answer questions, and deliver messages. They are the calming voice on the other end of the phone in an emergency, and the enthusiastic voice when our clients call to schedule an appointment for a new pet. They are the smiling faces you see each and every time you enter the practice.
Our Management Team, Nicole, Emily, and Cathy are the extraordinary staff members who lead our team(s). They make sure patients are provided with the best possible care and our clients are given excellent service. They look after our staff to ensure that they feel appreciated, valued, and work in a positive environment.
Let's give a big, huge, "Thank you!!!" to the Goosepond Animal Hospital Team today!